Our Apartments Are Pet-Friendly!
Looking for pet-friendly apartments in Waterford? Look no further than Waterford Pines Apartments! As one of the few pet-friendly communities, we proudly allow cats and dogs here at Waterford Pines. Now your pet has the opportunity to relax by your side and enjoy the comforts of your apartment home.
Our Pet Policy
Waterford Pines Apartments allows dogs and cats
We welcome pets upon approval
There is a limit of 2 pets per apartment
Pets may be dogs or cats but cannot be more than a total weight of 100 pounds. We do not accept Pit Bull, German Shepherd, Rottweiler, Wolf Hybrid, or any mix of these breeds. Property staff reserve the exclusive right to make the final determination as to dog breed.
Pet Fees
$350 pet fee
$40 per month per pet
For further details on our pet policy, please contact our office staff.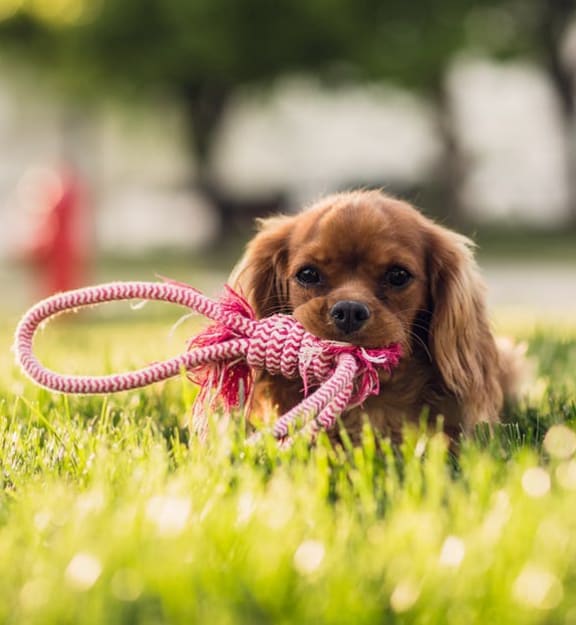 Testimonials
I have lived here almost two years and couldn't be more satisfied with my apartment!!! For the size and price it's perfect. The office staff is always friendly, and attentive to my needs. The maintenance is always quick to respond when I've had to put in for service. They are great!!!

- Anonymous
My leasing experience with Waterford Pines was absolutely spectacular. The office staff were all well informed, and answered each and every one (of my many) questions. The process was transparent and given in terms that were easily understood. I would highly recommend Waterford Pines for your housing needs.

- Anonymous
5 Star Review: . Gary was extremely helpful and thorough during the entire process, the other woman who would answer when I called was actually personable and kind, helpful even though Gary was the main person I spoke with. Jessica, the property manager, was really understanding and made me feel important the few times I spoke with her. I was recently approved and can't wait to move in

- Google Review
5 Star Review: Great place to live. The appearance is beautiful, staff is helpful and it is a great place to call home!

- Google Review
5 Star Review: Came out to take a tour with Nicole and was pleased with your property. I'm new to the area and this is the best place that I've seen to live. Love the amenities and the space in the apartment that I need is perfect for me. Thanks

- Google Review
5 Star Review: Gary was super knowledgeable when it came to the property and the area! I was late to the appointment and he stayed behind. Gary was very thorough and friendly! He showed and explained all of the differences between the apartments and answered every question I had! Honestly, it's comforting to know that we will be moving into a home where the employee is willing to go above and beyond. You don't see that much these days. Thank you Gary! Can't wait to move in!

- Google Review
5 Star Review: I just went in with my husband asking about apartment availability. The leasing agent was Gary Williams and he was so nice, and professional. To see a smiling face to end the year was very refreshing! He was very thorough with letting us know all the information about Waterford Pines and the application process and letting us know what we needed to do next. So just letting everyone know how pleasant the service was (and hopefully it works out to become tenants).

- Google Review
5 Star Review: My girlfriend and I love living at Waterford Pines! We have a beautiful fully upgraded unit and love how perfect the location is. Gary at the office is amazing and truly goes out of his way to meet my needs. We moved in during a stressful time, and Gary was there to assist us through the whole process.

- Google Review
5 Star Review: Gary in the office has been amazing during this entire process. He is very knowledgeable and very welcoming!! The maintenance staff has fixed any issue we had immediately. We also have wonderful neighbors who always say hello and are very friendly! Living here so far has been amazing!!! A very cozy community.

- Google Review
Molly Edson-Parlor There was a leak in our apartment on a Sunday when the office is closed, so I called the emergency maintenance number and Matt immediately called back and said he'd be here within 10-15 minutes. I don't think we waited even that long and he was here, fixed the problem, and was super polite. He is an excellent asset to the company. Thank you Matt for doing such a great job!

- Resident Review